---
---
MAKEUP REMOVER
11cm Soft Reusable White Puff
Remove makeup quickly & easily with only water.
Can be washed & reused up to 200 times.
Soft, non-toxic & suited for all skin types.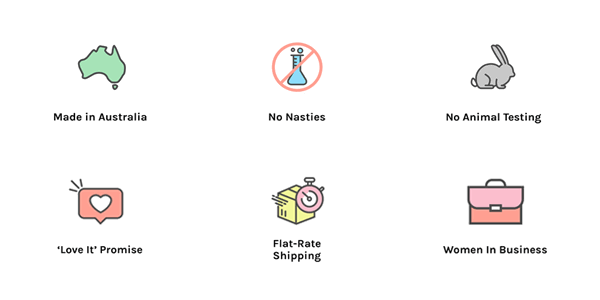 REMOVE MAKEUP THE EASY WAY
The MOST effective way to naturally remove makeup with ONLY water!
QUICK, EASY & REUSABLE
Quickly removes your makeup, making it perfect when you're in a rush.
NO more chemicals on your skin.
NO more over-scrubbing your skin.
NO more makeup frustrations.
THINGS TO KNOW
Directions: Soak the makeup remover puff in some water and it's ready to use. Gently rub off your makeup, rinsing in water when necessary.

After-Use Care: Simply wash your makeup remover puff in some soap and water. Wring out to dry. Reusable up to 200 times with appropriate care.
Our 'Love It' Promise
"Try Us...You Have NOTHING to Lose!"
We guarantee you will LOVE our products, just like thousands of other customers. And if you don't, get your money back AND keep your product!
Customers who bought this item also bought...
Amazing!!
As a mother of two under 3 and working full time; cleaning my face from makeup has always been a time consuming effort. This makeup remover sponge is an absolute godsend and it's fast and simple to use!! Couldnt believe how much it cleaned and left my skin feeling fresh. Its so simple to clean; definately a must have for me now and highly recommend it to everyone!!
The make up remover sponge is great when you are going from work to the gym and need to remove your make up before your work out. So easy to use. Love it.
Heavenly makeup remover
I'm always a bit iffy about buying online but this was definitely a hit and hit,,,to a home run! This bath box baby is ever so soft,takes the makeup off without any abrasiveness, is kind to the environment and oh so kind to my skin! Hole in one bath box!! Keep up the wonderful job you've been doing so effortlessly so far!!! Much love to you all! XoxoX
I loved it..!
Hands down the best make up remover I've ever had. Will definitely recommend to all my girlfriends 💜
Love it
This has made removing make up so easy and convenient. Literally the best product I have ever used. So glad I bought two. Have already recommend and will continue to purchase in future.