---
---
FACE KONJAC SPONGE
100% Natural & Biodegradable
A natural cleanse with ONLY water.

Konjac is pH neutral & vegan-friendly.

Works great on all skin types.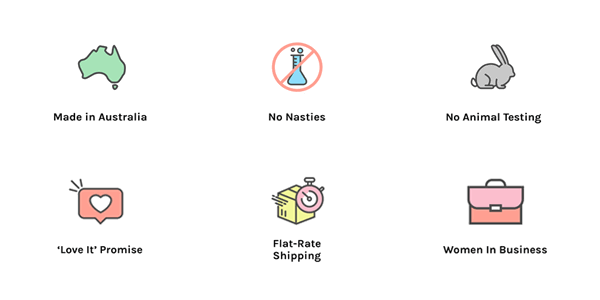 The ONLY way to naturally cleanse your skin with JUST water!
YES, ONLY WATER!
Made from konjac plant root, the sponge becomes soft once soaked in water.
Natural minerals infused in the konjac root provide a deep & nourishing cleanse.
Perfect when you're in a hurry and want to quickly wash your face.
Can be used daily on all skin types, and does not dry out your skin.
THINGS TO KNOW
Directions: Soak sponge in warm water for a few minutes until it expands & softens. Squeeze out excess water. Gently massage sponge on your skin to cleanse.

After-Use Care: Rinse your sponge after using, and hang it somewhere open to air-dry overnight. We recommend replacing your konjac sponge after 4 to 6 weeks of use. Don't worry, it's biodegradable!
Our 'Love It' Promise
"Try Us...You Have NOTHING to Lose!"
We guarantee you will LOVE our products, just like thousands of other customers. And if you don't, get your money back AND keep your product!
Customers who bought this item also bought...
Looks so smooth
I saw on ur instagram how smooth this is, and with only water this looks great!!!
Thanks Tess! Happy to hear that you're satisfied
Love!!
I have been using the konjac face sponge for a while now and it is amazing. I have always had bad skin with acne and redness but since using this sponge my face has been the clearest it has ever been!!
Thank you Tahlia! We are very happy to hear you liked it. Glad to know it helped you with your skin problem too
Sooo refreshing!
The sponge feels really nice on my face. At first I wasn't sure if it would be cleansing enough but I found I can ditch the soap and my abrasive, bacteria-filled face scrubber! My face has cleared up and my skin feels less stressed out. The bonus is that it's not a plastic product and I can put it in the compost!
I just bought more for my sisters to try!
Thank you Jessica! Really happy to hear this. We hope your sisters liked it too
AMAZING !!!
I would recommend this product to anyone who has bad skin !! I struggle so much with breakouts and dry skin and the kojac sponge has literally fixed my skin !!! Amazing project 💓💓
We are really happy to hear that you liked it! Glad to know that it was able to help you