THE 'COOLEST' BATH BOMBS YOU HAVE SEEN
These cute cupcake bath bombs make the perfect gift for any bath bomb lover!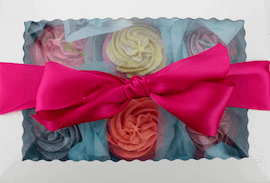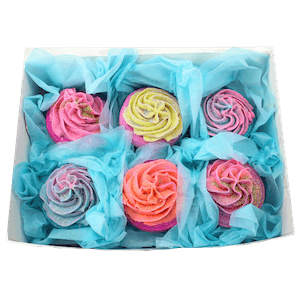 Open the gift box to find inside SIX beautiful Cupcake Bath Bombs with different scents and colours, guaranteed to create the most beautiful bath art!
1. Fill your bath tub with warm water.
2. Add your cupcake to the water and watch it activate.
3. It will begin releasing a beautiful aroma, while the colours disperse into the water.
4. Relax in your tub and enjoy!

Cool Tip: If you want more bubbles, take the bubble frosting off the top of your cupcake and place it under tap while running water. This will create extra foamy bubbles!
Our "Most Asked Questions" section is coming soon!

Ingredients: Sodium Bicarbonate, Citric Acid, Kaolin, Corn Starch, Cream of Tartar, Tapioca Starch, Grape Seed Oil, Cocoa Butter, Sodium Cocoyl Isethionate, Cocamidopropyl Betaine, Fragrance, Water, Dye, Biodegradable Glitter.

Take care of your bath bombs by storing them in a cool, dry place.
Looking for a deal? See what other customers also bought...
Our 'Love It' Promise
"Try Us...You Have NOTHING to Lose!"
We guarantee you will LOVE our products, just like thousands of other customers. And if you don't, simply message us, get your money back AND keep your product!
Why You Should Choose Bath Box®