10 Reasons You Should Start Using A Face Mask!
If you have your skin care routine down to a fine art – every morning and evening, you cleanse and moisturise – then you are taking care of your skin better than the average person. However, if sometimes you miss a day or are looking for that extra boost in your skin's softness, moisture and glow – a face mask might be the answer!

A minimum of once-per-week face mask treatment will help your skin feel noticeably better, even after the first time you try it!

Not convinced? Here are 10 reasons you need to at the very least try adding a face mask into your skin care routine once per week:
1. FACE MASKS ARE GOOD FOR DEEP CLEANSING
Your regular cleanser can do a good job of removing surface dirt, so if you are just trying to get rid of the day's makeup, this is fine. But if you want something that really cleans your skin, removes impurities and draws out toxins, you are going to need a face mask.

Deep cleansing face masks contain ingredients, such as kaolin clay, activated charcoal, seaweed, and others, that draw impurities out of the skin. For example, kaolin clay is able to sink deep into your pores and absorb any blockages (that can cause acne) – like dirt or dead skin.
Finally, if you experience oily skin, acne, or have combination skin – deep cleansing masks are something you need to use!
At Bath Box, our three best selling deep cleansing face masks are
Get Out of Here
,
Charred Face
, and
Fix It
!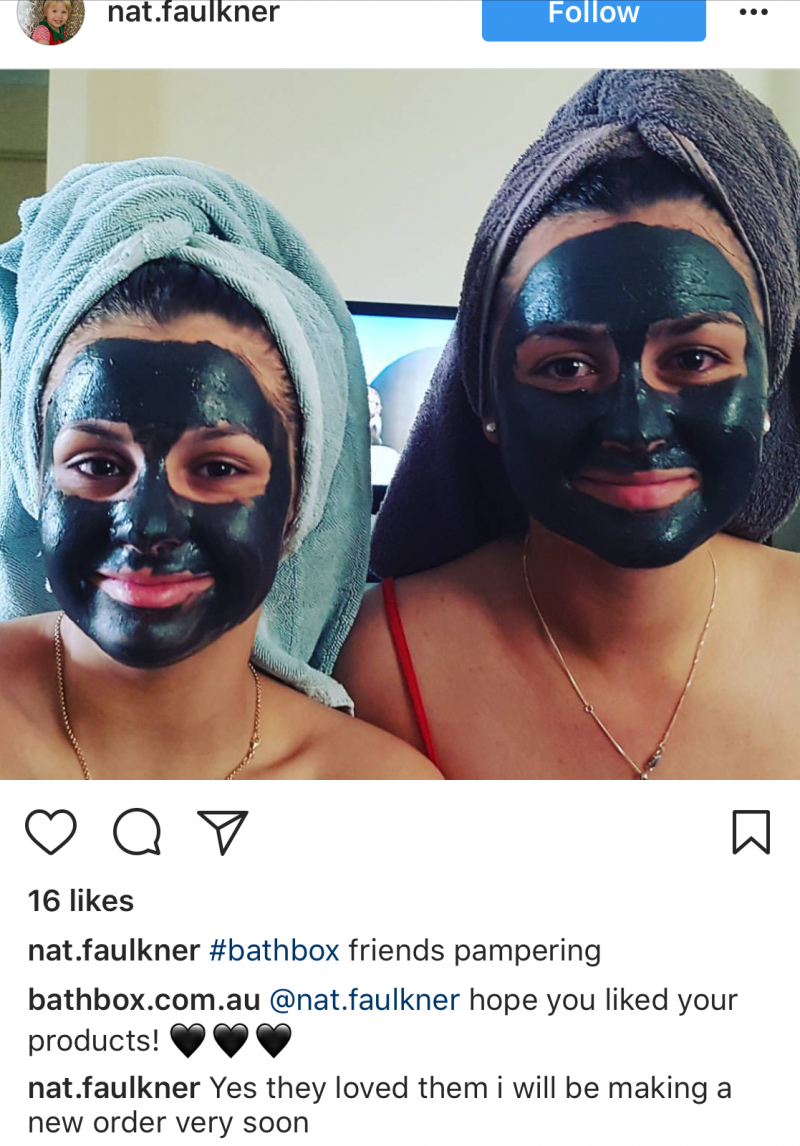 Happy customers using our activated charcoal deep cleansing face mask – Charred Face!
2. FACE MASKS ARE DEEPLY NOURISHING
If you suffer from dry skin, face masks can really help! Since face masks remain on your face for more than 10 minutes, you allow the right ingredients to penetrate into deeper layers of your skin to moisturise and deal with your dry skin at the root level.

Yes, still use your day to day moisturiser, but the right face mask can help replenish and hold more moisture in your skin for longer!

At Bath Box, we have researched this extensively and have found that cocoa butter, shea butter, and coconut oil to be some of the most powerful ingredients that effectively moisturise, nourish, and target dry skin.
If it sounds like this is something that could help you, check out the two face masks we have created that target dry skin –
Love Affair
and
Be Nice
!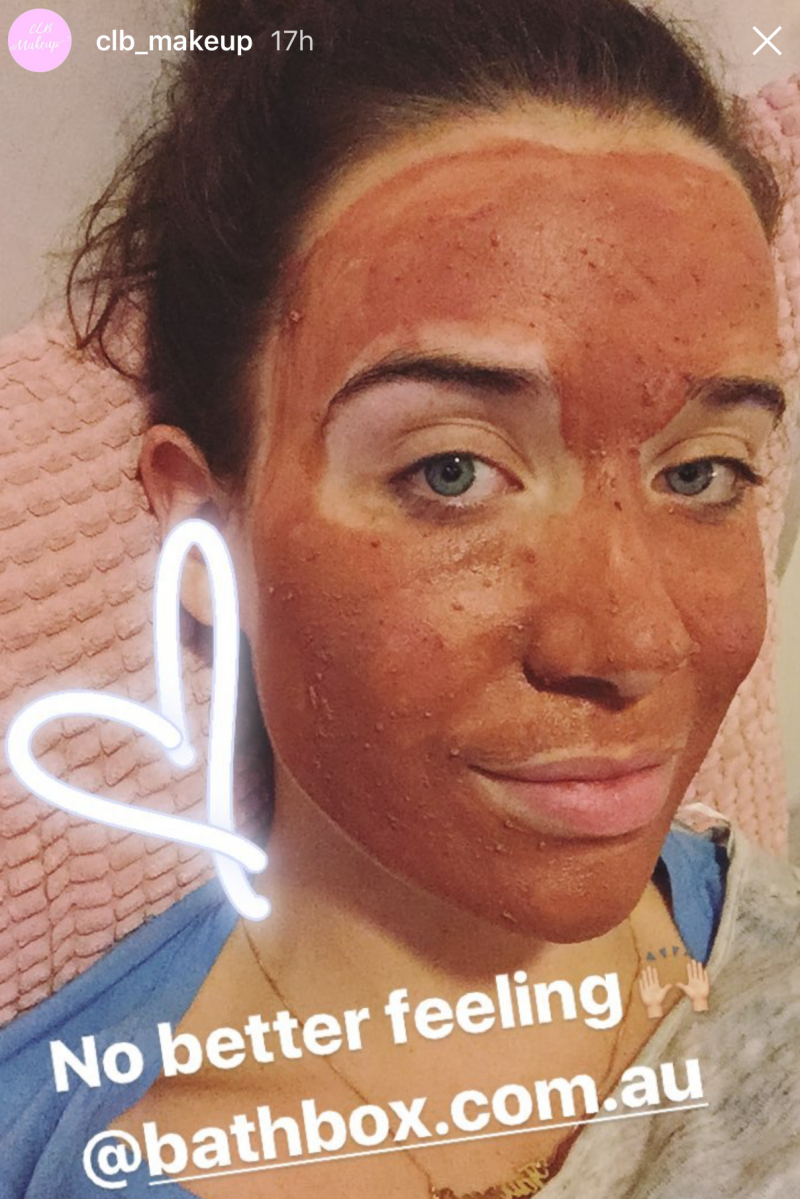 Another happy customer sharing themselves using our Be Nice face mask on Instagram Stories!
3. FACE MASKS CAN HELP RENEW YOUR SKIN CELLS
By exfoliating your skin and removing dead skin cells, you are naturally stimulating the regeneration of new skin cells. This process is sped up when using an effective exfoliating face mask that is proven to get rid of your dead skin cells.
It's also said that the action of applying a face mask (minor skin massage) also stimulates skin cell regeneration. Whether this is true or not, it does feel quite relaxing! 😛
For a great
exfoliating face mask
from Bath Box, I would recommend checking out either
Morning Brew
or
Mi Amor
.
Morning Brew
is our signature
coffee face mask
, perfect for those early mornings before work or school!
On the other hand,
Mi Amor
is an effective exfoliant and specially designed to be gentle so that those with
sensitive skin
can also use it!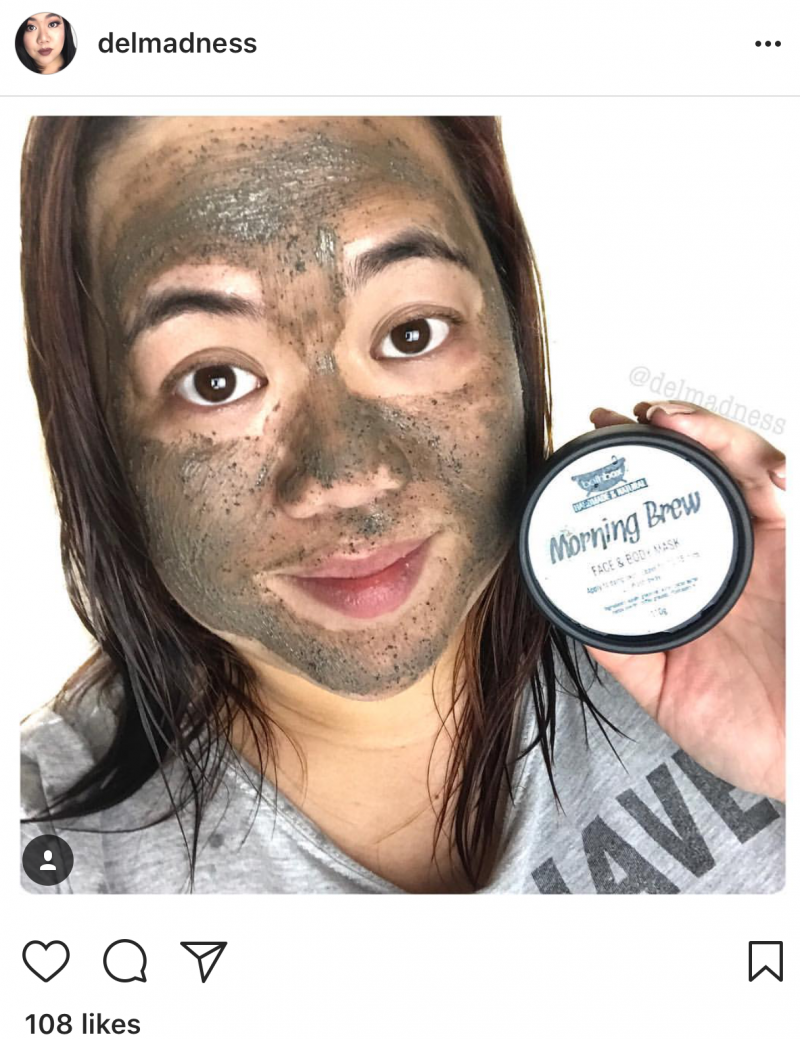 Very happy customer sharing Morning Brew on Instagram and also posting a video review on her YouTube Channel!
4. FACE MASKS IMMEDIATELY SOFTEN YOUR SKIN
The beauty products we put on our face on a daily basis (makeup, moisturisers, cleansers, etc.) do leave minor residue over the long term, even once we have removed them!

This can lead to your skin feeling dry or "tougher" than normal. After all, the softest skin should be on our faces!

One massive benefit from face masks is that after washing them away, you will notice an immediately boost in your skin's softness. Face masks work so effectively at doing this because they deeply nourish you skin every time.
5. FACE MASKS GIVE YOUR SKIN THAT "GLOW"
There's not much else to say here but when your skin feels more nourished, it usually looks more nourished. Face masks are a great way to add that "skin glow" back, especially after a long day or late night!
6. FACE MASKS ARE EXCELLENT FOR UNCLOGGING PORES
If you have a problem with clogged pores, blackheads, acne, and other common problems associated with large pores, then face masks are a must use.

Similarly to all the benefits above, using a face mask not only cleanses your pores but can also help tighten them so that they appear visibly smaller, cleaner and you help use preventative measure from them getting clogged again.
7. FACE MASKS ARE RELAXING
This one is the no-brainer benefit!
Using face masks should be relaxing and fun – NOT a chore you hate to do (like your daily skin cleanse haha).
Use face masks as a chance to take 15-20 minutes of your day for yourself. Apply your face mask, sit down with a nice book or glass of wine, and relax. (Maybe in your bath tub with one of our
relaxing bath bombs
!)
8. FACE MASKS INCREASE THE BENEFITS FROM YOUR OTHER SKIN PRODUCTS
Because your face mask will cleanse your pores and put your skin into a more receptive and natural state, when you actually apply moisturisers or treatment products afterwards, they are getting right to where they need to be.

Effectively, you can use a face mask to deeply cleanse BEFORE using other skin products, paving the way for them to work even better. 🙂
9. FACE MASKS FIRM YOUR SKIN
Depending on the type of face mask you are using, some ingredients can target skin elasticity and help firm your skin. This is effectively done by restoring the natural oil levels and moisture levels in your skin, as well as removing dead skin cells and relaxing any tension spots (like wrinkles).
10. FACE MASK CAN REDUCES SIGNS OF AGING
Similarly to benefit #9, you can use specific anti-aging face masks to help reduce the appearance of fine lines and wrinkles. These face masks may also double by helping your skin feel and look more firm.

The ingredients that tend to help with these are ones with high moisturising properties. At Bath Box, we are currently formulating our "Essentials Face Mask" range which will target skin issues like anti-aging and firming. We intend to do this by using active key ingredients that are natural and proven to restore the balance back in your skin.
Look out for these at our website coming into 2018!

To finish up, a face mask is a simple addition to any skin care regimen and the benefits can be huge (especially if you haven't really used one on a regular basis before).
Everyone has a few minutes each week to try it, so if you're interested, check out our
Bath Box Shop
and try one today!
Liquid error: Could not find asset snippets/relatedblogs.liquid