Skincare Routine | For Acne and Oily Prone Skin!
We get so many questions about what masks and products are best for
acne, oily skin, and blackheads.
So we thought we should write a couple of blog posts about this topic. That way you guys can get to know your skin better, and understand what products may work best for you.
YOUR SKIN IS CRYING OUT FOR HELP!
Okay let's set the scene: you jump out of bed bright and early, walk into the bathroom to start your beauty routine, and look into the mirror. Right there on your forehead is a giant, red, inflamed pimple. You're devastated, and begin to pinch, pick, and poke at this unsightly volcano protruding from your forehead. With no luck, you run to the sink and start vigorously scrubbing the skin off your face…
STOP!
This story is all too real for many women today, and with a little more education, we believe these instances will become few and far between.
WHY DO I SUFFER WITH ACNE AND OILY SKIN?
There are so many articles out there on the web today talking about acne and the miracle cures out there to fix it. Unfortunately, there is not a magical product that will get rid of your skin of acne overnight. Healthy skin is the product of months and sometimes years of hard work and care.

But first, let's talk about why you even have acne. Your face has thousands of tiny holes, and inside those holes there are unique functions your body carries out to care for your skin. One of those functions includes producing oil to moisturise your face. I believe one of the leading causes of acne is an unbalance of oils in the skin due to diet, excessive cleansing, lack of moisturising, and much more.
1. PLEASE PLEASE PLEASE MOISTURISE!
If you suddenly come down with a breakout, one of the worst things you can do is excessively cleanse your face. This strips precious oils from your skin, leading to rapid oil production, causing blocked pores and excess oil. So if you want to make big changes in your skin, spend less time scrubbing your face, and spend more time moisturising it. This helps balance the oil levels, and leaves your skin with a healthy glow, instead of looking like a greasy oil slick.

With this in mind, it takes a while for your skin to balance out the oil levels. It won't happen overnight, and in my personal experience it can take about three weeks or a little longer. In the mean time, you can put moisturisers on before bed. That way you can prevent your skin from looking greasy when you're out and about during the day.
2. JUST GIVE YOUR SKIN A BREAK
Don't scrub your skin so much. This just causes irritation and makes all your issues worse. I believe you only need to cleanse your skin once a day to every two days if your skin is sensitive, and exfoliate twice a week. This is really all you need to do. If you give your skin a rest, especially after a breakout, your skin can heal better, and won't give you as many scars.
3. EVERY TIME YOU SUBTRACT, YOU MUST ADD
This is something I try to live by. You must give your skin nutrients and moisture, NO MATTER WHAT SKIN TYPE YOU HAVE. The only difference is what type of moisturiser, ect.


Certain oils are better depending on what type of skin you have. For example, jojoba oil is the best oil, in my opinion, for people with oily skin, because its make up is very similar to the natural oil your skin produces, making it less likely to block your pores.
4. STAY AWAY FROM CHEMICALS
The earth is full of natural goodness to heal your skin, and I believe that's all you need. With the rapid advancement of technology in the beauty and cosmetic industry, you DO NOT really know what these chemicals are doing to your skin and body in the long term.

At Bath Box ALL of our face masks are 99% natural with 1% of a paraben-free preservative. We try to only include natural ingredients, but people like foam, pretty colours, and shiny stuff. This can only be achieved with artificial ingredients, so to make our customers happy, we scour the internet for natural alternatives and safe synthetics.

For example, everyone loves glitter in bath bombs, but it is SO BAD for the environment. Tiny pieces of plastic get washed down the drain into the ocean for tiny fish to breath in, and pollute our water ways. This is why we use biodegradable glitter. This means our glitter is made from the leaves of eucalyptus trees coated with special mica to make it shimmer and shine. Hence, no plastic is being washed down the drain.
WHAT PRODUCTS WILL HELP MY ACNE AND OILY SKIN?
We have created a special routine with amazing natural ingredients that can help to improve your skin's health.

Our oily skin routine is made up of a lightweight and fragrance-free daily moisturiser, our daily tea tree oil cleanser (or every other day lol), and two weekly face masks. Which is an exfoliating seaweed mask and our detoxing charcoal mask.

These products have been specially designed for those with acne, blackheads, and oily skin in mind. They are natural, handmade, gentle on the skin, and easy to use. Our routine also includes our gentle cleansing brush and mask applicator.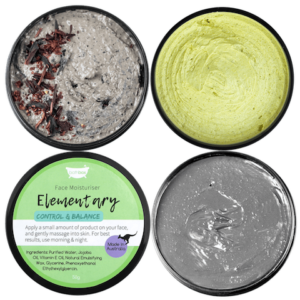 If you have questions in further detail about these products, you can email or message us on our social media platforms.
HOW DO YOU USE THE THIS SKINCARE ROUTINE?
Liquid error: Could not find asset snippets/relatedblogs.liquid