Which Makeup Remover Should You Use?
Did you know that most makeup is made from oil substances and when kept on your skin overnight, can clog your pores, causing breakouts of acne & blackheads?

Have you ever have slept with your makeup and found your skin dull, tired & lifeless the next morning, or woken up with a large, new & swollen pimple? Ewwww!
This is why it is very important to remove all traces of makeup from your skin before bed.


Leaving your makeup on can cause an extensive amount of damage, whilst taking all your makeup off will help your skin breathe and repair.

While you are sleeping, your skin is renewing itself and when you sleep with makeup, you are preventing this from happening.

Three main products you may find yourself using to remove makeup are: cleansers, makeup wipes, makeup removers and micellar water. And below, I am going to tell you a little about each of them.
CLEANSERS
Yes, you can use a cleanser. This is a great way to remove foundation, blush and/or bronzer.

When cleansing your face, let the cleanser sit on your skin for 15-20 seconds before washing off.

Plus, if you are wearing a long-lasting foundation, which tend to be a little more difficult to remove, you can use a cleanser brush along with your cleanser. Otherwise, you can rub a cotton pad with makeup remover all over the face before cleansing, as this will help to loosen up makeup.

However, this does prove difficult when it comes to the eye region, which lets be honest, is one of the most difficult regions to remove makeup.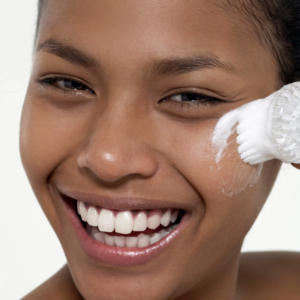 NOTE: Always be gentle with your skin and DO NOT excessively scrub or leave it dehydrated and/or irritated.


Give your eyes extra attention. Mascara and eye-liner are the hardest to get rid of and you DO NOT want to scrub the sensitive thin layer of skin around the eyes. This applies to not only cleansers but to the other makeup removal methods below.
MAKEUP WIPES
These are used by many and let's be honest, how many do you really have to use before you can officially say that all your makeup is off, or at least think most of your makeup is off?

Now on that note, I have been left with a mountain of used wipes that did not necessarily remove all of my foundation deep within my pores, let alone stubborn eye makeup. Does this mean I have to spend another five or so minutes cleansing and using more products on my face, let alone ingredients that to this day, I still cannot pronounce.

Approximately, 65% of what we put on our skin is absorbed by our body. When we are using makeup wipes, although we are removing a layer of our makeup, we are still leaving a residue behind.

Now, if you're anything like me, you probably pick out the makeup wipes without fragrance and designed for sensitive skin. Because as you may already be aware, fragrance is the most common skin irritant.

But regardless of all this, my primary concern and yours as well, should be about deeply cleansing your skin of makeup.

So, when you are asleep, your skin can deeply renew itself. As we already know, this can only happen if all your makeup is removed from your skin.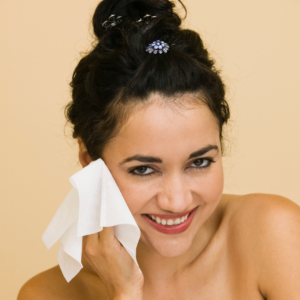 MAKEUP REMOVERS & MICELLAR WATER
It's time to talk about makeup removers and micellar water.

First of all, they cannot be used by themselves. They need to be used with a cotton ball or pad, preferably pad to avoid getting fuzzies and fluff everywhere…

If you run out of these, which is a constant thing that used to happen to me on Saturday night or shall early Sunday morning after a long night out, there isn't really much you can do with the solution by itself. And trust me, I have tried it with tissues and it isn't very effective. These are the things you do at 2am when all you really want to do is crawl up in bed.

As we already know makeup wipes and makeup removers are very similar. Basically one is the plain solution and the other is the solution already added to a specially designed wipe that can be instantly used.
So, what is micellar water?
If you're like me and bought micellar water to try it because it's the "in thing" at the time, but didn't really know what it was, let me tell you a little bit about it. Micellar water is made up of micelles (tiny balls of cleansing oil) that are suspended in soft water.

The whole idea behind micellar water is that when applied to the skin, the micelles attract oil and dirt helping to draw out impurities without drying out the skin. This is one of the reasons why you may use it as a makeup remover.

As stated earlier, most makeups tend to be oil based and using a product like this will help to remove makeup as well as prevent the clogging of pores.

Regardless, you will still have to continue to purchase cotton pads and more micellar water.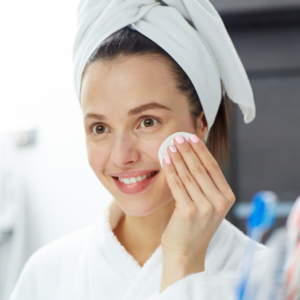 Why can't there be an easier alternative to remove makeup?
The Bath Box makeup remover!


It is a quick & easy way to clean your skin of makeup with just water. Yes, you saw that right, just water!


This makeup remover is unlike any throw-away packet wipes. Because it is reusable, and can be used up to 200 times. WOW! It doesn't have any hidden nasties or chemicals, and is suitable for sensitive skin, as it gently sweeps away any traces of makeup – even tough eye makeup!

So, what are you waiting for? Try it today and test it for yourself.

Say good bye to any pore-clogging makeup and enjoy that feeling of a clean, fresh face before bed.

I am sure this is will be your new favourite way to remove makeup, and save you a little in the bank too! 😛
Liquid error: Could not find asset snippets/relatedblogs.liquid